Archive for the 'Telecommunication' Category
Mobile Marketing is a must for cutting edge business owners. More and more people are using their mobile devices to search for local businesses and shop online as seen from the following statistics.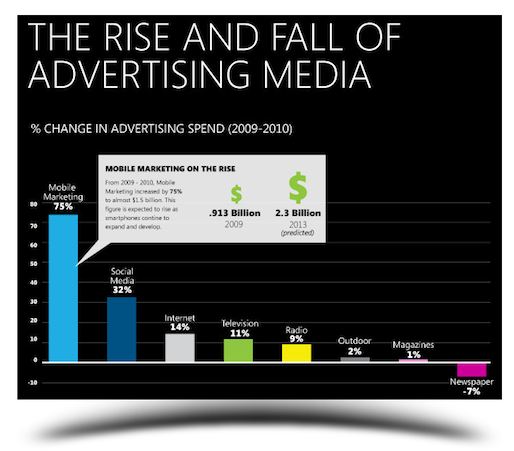 Google keeps careful watch over the habits of their users because they know how important it is to keep ahead of the trends in order to provide the best user experience. Here is what they have found.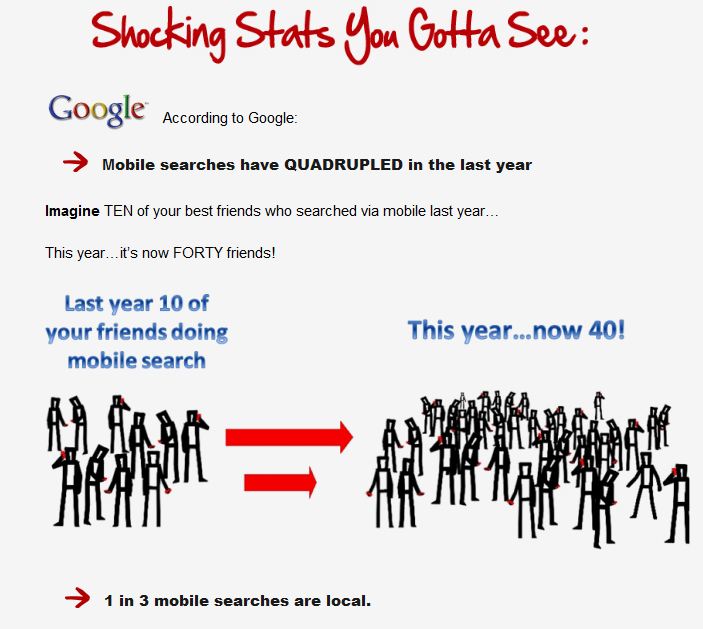 As you can readily see, if you are a local business owner without a mobile friendly website, you are missing out on a lot of potential customers. Can you really afford to lose that much revenue in this economy? Even the marketing giant, Amazon.com, is seeing a significant shift in how their customers buy online. Mobile marketing has significantly impacted their bottom line.

Contact us now to find out how you can quickly and easily tap into this massive mobile market.
Recently released market study: Singapore Telecommunications Report Q3 2010


– Our Q310 updated Singapore Telecommunications Report market contains revised forecasts for the country's mobile and 3G subscriber markets, as well as the internet user and broadband subscriber sectors. Our forecasts and market analysis sections make full use of new data published by the operators and Singapore's regulatory authority, the IDA, for the first three months of 2010.
At the end of 2009, Singapore had a total of 6.857mn mobile subscribers, equivalent to a penetration rate of 140.1% and reflecting year-on-year (y-o-y) growth of by 8.2%. Although this was a strong performance given the high penetration rate, we now predict that Singapore's mobile market will expand by 1.9% in 2010. Our new predication for the sector is based on operator data for the first quarter of the year. Based on data published by mobile market leader SingTel, as well as smaller market rivals StarHub and M1, the Singaporean mobile customer base grew by just 0.4% in the first three months of 2010. The reason for the weak growth related to the deduction of inactive prepaid customers by SingTel from its reported total. We continue to believe that the figures reported by all three operators include both inactive and active subscribers. Consequently, we believe that further customer deductions are highly likely going forward. This will result in much weaker mobile market growth than we have seen of late.
Despite new efforts to deduct inactive prepaid customers from their reported user base, Singapore's operators continue to report strong growth in the number of contract customers and 3G subscribers. At the end of 2009, Singapore had 3.181mn 3G subscribers, accounting for 46.4% of the total mobile market. Increased competition in the sector, together with increased smartphone penetration rates, is expected to drive the use of mobile data services and applications over the next few years, positively impacting the 3G market. In addition investment in upgrading mobile networks to HSPA+ and trials of LTE should aid network capacity as greater traffic occurs. In 2010, we now predict that the 3G subscriber market will grow by almost 20% to surpass 3.8mn subscribers. However, in the latter years of our forecast, we now expect growth in Singapore's 3G subscriber market to slow significantly. Slowing growth reflects an increasingly saturated market and the need to take into account only active mobile customers when assessing the growth potential of the 3G market.
Recent developments of note in Singapore's telecoms market include the February announcement that M1 had successfully carried out tests on M1′s trial Long Term Evolution (LTE) network, with transmission speeds reaching 100Mbps on a data call. It has been suggested that M1 could be ready to launch its socalled '4G' LTE mobile broadband network by Q211. Meanwhile, in March, Singapore's IDA, the market regulator, announced a public consultation which aims to provide a framework for the introduction of ultra-high speed mobile communication systems, such as LTE and mobile WiMAX.
Singapore remains in second place in BMI's latest Business Environment Ratings for Asia Pacific. This is in spite of receiving a lower score on the Telecom Market category. The slightly lower score partly reflects the slowdown in mobile customer growth, prompted by SingTel's move to deduct inactive prepaid users. It also reflects the weaker contract ARPU rates reported by the operators in Q110.
For more information or to purchase this report, go to:
-  http://www.fastmr.com/prod/74020_singapore_telecommunica …
Partial Table of Contents:
SWOT Analysis
- Singapore Wireline SWOT
- Singapore Mobile SWOT
- Singapore Political SWOT
- Singapore Economic SWOT
- Singapore Business Environment SWOT
Business Environment Ratings
- Asia
- Singapore
- Table: Asia Telecoms Business Environment Rankings
Industry Forecast Scenario
- Mobile
- Table: Singapore Telecoms Sector – Mobile – Historical Data & Forecasts, 2007-2014
- ARPU
- Table: Telecoms Sector – Mobile ARPU – Historical Data & Forecasts, 2007-2014 (SGD)
- Fixed Line
- Table: Telecoms Sector – Fixed Line – Historical Data & Forecasts, 2007-2014
- Internet
- Table: Telecoms Sector – Internet – Historical Data & Forecasts, 2007-2014
Market Data Analysis
- Mobile
- Table: Singapore – Mobile Market Subscriber Growth, 2007-2010 ('000)
- Table: Singapore Wireless Market, Q110
- ARPU
- Table: ARPU Growth
- 3G
- Table: Singapore 3G Net Additions Market, Q110
- Mobile Contract Wins
- Table: Mobile Contract Wins, 2008-2010
- Mobile Content
- Regional Outlook
- Table: Asia Mobile VAS Market By Service, 2009 (US$bn)
- Country Outlook
- SMS
- Mobile Broadband
- Mobile TV
- Value-Added Services Timeline
- Table: Selected VAS Services Launched, 2007-2009
- Mobile Operator Data
- Singapore Mobile Market Overview
- SingTel Mobile
- StarHub
- M1
- Fixed Line
- International Traffic Lines
- Table: Lowest Rates Of Selected Operators' International Telephone Service, August 2009
- Internet
- Broadband
- Table: Singapore Broadband Market, Q110
- Table: Composition Of Broadband Internet Access Subscribers, March 2010
- Wireline Contract Wins
- Table: Wireline (Fixed-Line And Broadband) Developments
Regulatory Environment And Industry Developments
- Table: Division Of Regulatory Responsibilities In Singapore
- Competition
- Next Generation National Infocomm Infrastructure
- Industry Developments
Competitive Landscape
- Key Players
- Table: Key Players – Singapore Telecoms Sector
- Table: Selected Operators – Financial Indicators, 2002-2008 (SGDmn)
Company Monitor
- Huawei Closes The Gap On European Rivals Across Asia
-
Full Table of Contents is available at:
– http://www.fastmr.com/catalog/product.aspx?productid=740 …
About Business Monitor International
Business Monitor International (BMI) offers a comprehensive range of products and services designed to help senior executives, analysts and researchers assess and better manage operating risks, and exploit business opportunities, across 175 markets.  BMI offers three main areas of expertise: Country Risk BMI's country risk and macroeconomic forecast portfolio includes weekly financial market reports, monthly regional Monitors, and in-depth quarterly Business Forecast Reports.  Industry Analysis BMI covers a total of 17 industry verticals through a portfolio of services, including in-depth quarterly Country Forecast Reports.  View more research from Business Monitor International at http://www.fastmr.com/catalog/publishers.aspx?pubid=1010
About Fast Market Research
Fast Market Research is an online aggregator and distributor of market research and business information. We represent the world's top research publishers and analysts and provide quick and easy access to the best competitive intelligence available.
For more information about these or related research reports, please visit our website at http://www.fastmr.com or call us at 1.800.844.8156 begin_of_the_skype_highlighting              1.800.844.8156      end_of_the_skype_highlighting.

# # #
Fast Market Research is an online aggregator and distributor of market research and business information. We represent the world's top research publishers and analysts and provide quick and easy access to the best competitive intelligence available.

The product has provided Chess with support for the full WLR3 product set and significantly enhanced the company's operational and business support systems.
In 2005 the UK's communications regulator OFCOM stipulated that BT must open up its wholesales services to independent providers. In response, BT has spun off its wholesale arm into a new company called Openreach, which will provide a ?level playing field' to independent Telco Providers such as Chess Telecom in the UK who buy and sell phone services to business and private customers. However, before they can access these new services the independent operators have to be able to link their internal ordering systems to Openreach using a standard called Wholesale Line Rental 3 (WLR3)
Chess Telecom primarily adopted SingularityWLR3 to compete with tier one telecoms providers and to help streamline other business processes. The investment in the product has surpassed all expectations and the company are realizing the additional benefits to their bottom line quickly.
WLR3 provides Chess Telecom with complete equivalence with BT Retail presenting them with a huge opportunity to significantly enhance their competitive edge by being able to offer ?like-for-like' products and services as BT Retail at a low cost supported by exceptional customer service.
"We chose Singularity because they have a great product, they listened to our needs, they understood our business and they could deliver a solution fast. Our investment in WLR3 allows us to raise the bar in terms of providing exceptional service for our customers and partners," said Julie Wright, Operations Director at Chess Telecom.
The SingularityWLR3 product is based on its successful and award winning Business Process Management (BPM) software. This created a platform for Chess to use the WLR3 solution to integrate with its existing operational and business support systems, as well as WLR2. That integration was essential for Chess, as it avoided the time-consuming, expensive and potentially error inducing re-inputting of key data.
The new system scores very highly across all the priorities: integration, data security and functionality, ticking all the boxes and more. Operatives have become more skilled when dealing with customers through the intuitive nature of the system. The user is prompted to ask relevant questions whilst taking orders or handling a fault complaint thus reducing order rejection by Openreach and assisting Chess to support customers in making the right choices. Other operational improvements achieved include; real time order and fault monitoring; assurance improvements; higher levels of speed and accuracy; improved customer and partner satisfaction; and greater flexibility in the sale of additional services.
"Chess is very satisfied with the WLR3 platform and the operational improvements it has achieved. Singularity are overjoyed that our WLR3 product has not only met the initial requirement but that Chess are enjoying the return on investment and reaping the benefits of enhanced operational and business support systems through the BPM element of the SingularityWLR3 product," commented Dr Robert McGarry, Telecoms Director, Singularity
About Chess:
Chess Telecom is one of the UK's fastest growing telecoms companies specializing in the SME sector, providing a comprehensive communications product portfolio including mobile, fixed line and calls, BlackBerry, broadband and VoIP. Operating in a highly competitive arena, for Chess, efficiency, cost and responsiveness are essential to winning and retaining customers.
The company was established in 1993 and has since grown rapidly, both organically and as one of the most successful acquirers in the sector. Chess Telecom has used a combination of skill, experience, innovation and exceptional customer service to deliver great value, quality communications solutions to businesses throughout the UK. For more information visit www.chesstelecom.com
For further press information please contact Kathryn McDevitt at Singularity.
Email: marketing@singularity.co.uk, or telephone: + 44 28 71 267767. For more information, please visit http://www.singularitylive.com or http://www.singularity.co.uk